JUVENILE JUSTICE DETENTION OFFICER II - 80004067
Location: 
BRADENTON, FL, US, 33870 SARASOTA, FL, US, 34234 PALMETTO, FL, US, 34221 SARASOTA, FL, US, 34239 BRADENTON, FL, US, 34208 ENGLEWOOD, FL, US, 34295 PORT CHARLOTTE, FL, US, 33948 PALMETTO, FL, US, 34280 SARASOTA, FL, US, 34237 PUNTA GORDA, FL, US, 33982 SARASOTA, FL, US, 34285 BRADENTON, FL, US, 34205 PORT CHARLOTTE, FL, US, 33953 SARASOTA, FL, US, 34241 PORT CHARLOTTE, FL, US, 33980 SARASOTA, FL, US, 34236 SARASOTA, FL, US, 34233 ENGLEWOOD, FL, US, 34223 OSPREY, FL, US, 34229 PORT CHARLOTTE, FL, US, 33954 ARCADIA, FL, US, 34265 BRADENTON, FL, US, 34212 SARASOTA, FL, US, 34243 SARASOTA, FL, US, 34232 VENICE, FL, US, 34292 ELLENTON, FL, US, 34222 BRADENTON, FL, US, 34211 ARCADIA, FL, US, 33821 MYAKKA CITY, FL, US, 34251 WAUCHULA, FL, US, 33873 SARASOTA, FL, US, 34240 ENGLEWOOD, FL, US, 34224 NORTH PORT, FL, US, 34287 BRADENTON, FL, US, 34203 VENICE, FL, US, 34293 VENICE, FL, US, 34285 ARCADIA, FL, US, 34266 SARASOTA, FL, US, 34231 MURDOCK, FL, US, 33938 PALMETTO, FL, US, 34220 PUNTA GORDA, FL, US, 33950 PORT CHARLOTTE, FL, US, 33952 WAUCHULA, FL, US, 33870 PUNTA GORDA, FL, US, 33955
Requisition No: 812652 
Agency: Juvenile Justice
Working Title: JUVENILE JUSTICE DETENTION OFFICER II - 80004067
Position Number: 80004067 
Salary:  $1,667.40 Bi-Weekly = $20.84 Hourly 
Posting Closing Date: 10/04/2023 
The Department of Juvenile Justice salutes our heroes.
We are honored to have the opportunity to support our nation's veterans and their families.
We value the service given to our country and support the hiring of service members and military spouses.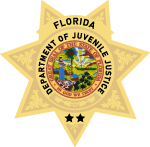 The Right Service, the Right Way, at the Right Time
THIS POSITION IS A POOL ANNOUNCEMENT
MULTIPLE POSITIONS WILL BE HIRED FROM THIS ANNOUNCEMENT
LOCATION, CONTACT AND SALARY INFORMATION:
Location Information:  Manatee Regional Juvenile Detention Center 183 5th Street West, Bradenton Florida 34205
Contact Person:  Lisa Arent  Lisa.Arent@fldjj.gov
Minimum Biweekly Rate of Pay:  $1,667.40 / $20.84 per hour (In accordance with current spending restrictions, if the appointment is an internal promotion, the position will be filled at the minimum of the pay grade or up to 5% of the employee's current rate, whichever higher.)      
POSITION DESCRIPTION:
This is a highly responsible position in the criminal justice system.  The employee is expected to perform all the duties in the optimum responsible manner, demonstrate leadership by being a positive role model for staff, youth and the community, and treat all persons with dignity and respect.
Responsible for adhering to agency or facility policies and procedures.  Responsible for maintaining a safe and secure environment for youth, themselves and other staff.  Ensures the maintenance of an environment which is safe and creates an atmosphere that has "zero tolerance" for detained youth escapes, detained youth abuse, sexual harassment and inappropriate conduct by the staff with the detained youth (Red Flag Behavior). Assists in the operation of a secure detention center, assuring the safe and secure custody of all assigned detained youth while ensuring that all detained youth are provided their constitutional rights with special concern for legal, medical and mental health issues.
Assists the supervisor to ensure that the detained youth's services and programming are in compliance with court orders, rules, Departmental policies and procedures, and Quality Assurance standards.
Successfully completes training requirements to maintain proficiency on the proper methods for dispensing medications to the youth. Distributes medication in the absence of a designated medical health authority or a facility nurse.
Performs duties in Master Control, admissions, releases, and transportation, as necessary.
Supervises youth in all activities and maintains control of detained youth by giving directives, counseling and/or utilizing appropriate levels of verbal or physical use of Protective Action Response (PAR) as needed to properly control detained youth in accordance with the departmental and facility policies and procedures.
Inspects facility, youth, visitors and packages delivered to the facility for contraband.
Trains and/or coach's employees concerning their duties and orients them concerning facility policies and procedures.
In the absence of the supervisor, assumes acting supervisor's role.
Writes reports and prepares required records regarding incidents, detained youth movement and noteworthy information, and ensures the documentation of all violations of facility operating procedures, rules and regulations, and state and federal statutes. Prepares detained youth for court appearances, and transports and escorts detained youth to medical, criminal justice, social services and judicial facilities as needed according to departmental and facility policies and procedures.
Uses security and emergency equipment to ensure the safety and security of the detained youth and the facility.
Completes 10-minute checks, 5-minute checks or Constant Sight and Uninterrupted Sound Supervision for every detained youth confined to room confinement or designated as suicidal.
Assesses and analyzes information available through the Juvenile Justice Information System.
Initiates and maintains detained youth counts as directed by departmental and facility operating procedures and policies.
Attends and successfully completes all training required by DJJ's Direct Care Training Policy and other training as assigned and required. In case of an emergency, will utilize Cardio Pulmonary Resuscitation (CPR), Automatic External Defibrillator (AED), and First Aid techniques and procedures taught during certification training.
Attends required meetings.
Maintains a valid Driver License and reports any change to his/her supervisor within 72 hours.  Will not knowingly drive a state vehicle or use a private vehicle on state business if his/her license is revoked, suspended, or given any curtailment of use.
This position must comply with the requirements set forth in Section 215.422, Florida Statutes, Prompt Payment Compliance Law.
Performs other related duties as required.
MINIMUM QUALIFICATIONS FOR THIS POSITION INCLUDE THE FOLLOWING REQUIRED ENTRY LEVEL KNOWLEDGE, SKILLS AND ABILITIES:
Ability to communicate both orally and in writing.
Ability to add, subtract, multiply and divide rational numbers.
Ability to prepare and maintain reports and records.
Ability to effectively work with youth, co-workers, supervisors and the public.
Knowledge of good hygiene.
Knowledge of the Department and facility policies and procedures.
Ability to understand and follow verbal and written instructions in a timely manner.
Ability to determine the appropriate level of force.
Ability to observe changes in youth's behaviors.
Ability to provide constructive feedback to correct behavior.  
Knowledge of good housekeeping tasks relative to maintaining the sanitary conditions of the facility.
SPECIAL NOTES:
All prospective candidates will be subject to a sex offender check, criminal background checks, (state, local and national) and pre-employment drug screening for direct care positions.
DJJ participates in E-Verify (Employment Eligibility).
When identified on a position description, a valid driver's license is required. If initially hired with an out-of-state license, the Florida resident must obtain a valid Florida state driver's license within 30 days of hire. Licenses suspended or revoked for any reason, work permits (Business purpose/Employment/education only licenses) and some types of restricted licenses are not acceptable.  Licenses that have Corrective Lenses Restriction are acceptable, provided the driver wears corrective lenses while operating the vehicle. 
Positions that include the transportation of youth while performing any work or work-related functions on behalf of DJJ, require: (1) a valid driver's license, and (2) a three-year acceptable driving record as defined in FDJJ Policy 1920.
Successful candidate must be certified in accordance with State of Florida Department of Juvenile Justice direct care training policy, or obtain such certification within 180 days of employment. 
For those candidates who are not currently in the state system as a direct care worker for DJJ at the time of application, the top-ranking candidate(s) after the interview phase will be required to take and pass Ergometric's IMPACT Assessment and Training Test in order to be considered for this direct-care employment opportunity.  This test will be used to measure the candidate's overall suitability for working with Juvenile Justice involved youth.  Test results will be used for a period of six months after initial testing for candidates who reapply during that period for another position for which testing is required.
Pursuant to Florida law, the Florida Administrative Code, and in accordance with applicable federal law and regulations, the general staffing of a facility must be in an accordance with the male and female ratio of the juvenile population.  The decision to hire a male or female employee based on a bona fide occupational qualification does not constitute discrimination, disparate treatment and/or a violation of civil rights.
985.66 Florida Statute Requirement:
Be at least 19 years of age.
Be a high school graduate or its equivalent as determined by the department.
Not have been convicted of any felony or a misdemeanor involving perjury or false statement, or have received a dishonorable discharge from any of the Armed Forces of the United States.  Any person, who after September 30, 1999, pleads guilty or no lo contendere to or is found guilty of any felony or a misdemeanor involving perjury or false statement is not eligible for employment, notwithstanding suspension of sentence or withholding of adjudication.  Notwithstanding this subparagraph, any person who plead no lo contendere to a misdemeanor involving a false statement before October 1, 1999, and who has had such record of that plea sealed or expunged is not ineligible for employment for that reason.
Abide by all provisions of s. 985.644 (1), regarding fingerprinting and background investigations and other screening requirements for personnel. 
Execute and submit to the department an affidavit-of-application form, adopted by the department, attesting to his or her compliance with sub paragraphs 1-4.  The affidavit must be executed under oath and constitutes an official statement under s. 837.06.  The affidavit must include conspicuous language that the intentional false execution of the affidavit constitutes a misdemeanor of the second degree.  The employing agency shall retain the affidavit. 
The State of Florida is an Equal Opportunity Employer/Affirmative Action Employer, and does not tolerate discrimination or violence in the workplace.
Candidates requiring a reasonable accommodation, as defined by the Americans with Disabilities Act, must notify the agency hiring authority and/or People First Service Center (1-866-663-4735). Notification to the hiring authority must be made in advance to allow sufficient time to provide the accommodation.
The State of Florida supports a Drug-Free workplace. All employees are subject to reasonable suspicion drug testing in accordance with Section 112.0455, F.S., Drug-Free Workplace Act.
VETERANS' PREFERENCE.  Pursuant to Chapter 295, Florida Statutes, candidates eligible for Veterans' Preference will receive preference in employment for Career Service vacancies and are encouraged to apply.  Certain service members may be eligible to receive waivers for postsecondary educational requirements.  Candidates claiming Veterans' Preference must attach supporting documentation with each submission that includes character of service (for example, DD Form 214 Member Copy #4) along with any other documentation as required by Rule 55A-7, Florida Administrative Code.  Veterans' Preference documentation requirements are available by clicking here.  All documentation is due by the close of the vacancy announcement. 

Nearest Major Market: Central Florida
Nearest Secondary Market: Sebring